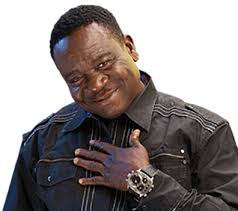 You can not talk about the fore founding acting comedians in the Nollywood industry and not mention John Okafor fondly known as Mr. Ibu. Comic, hilarious, stupid, and funny are names he has been labeled with, and from where he was growing up to where he currently is, one can say that hard work is actually the key to success. His story is actually an inspiration to many young people and he doesn't look down on people who were once like him.
Mr. Ibu's Birth and Early Childhood

Mr. Ibu was born on the 17th of October 1961 and raised in Umunekwu Village, Eziokwe, Nkanu West Local Government Area of Enugu State his hometown. He grew up from a very or what is called one of the poorest families in his village and wasn't opportune to enjoy some childhood benefits. He almost committed suicide when the pressure of life became unbearable.
Mr. Ibu's Family
Mr. Ibu grew up from a home where even a decent two square meal was an issue. His journey to Sapele after his primary school education was to engaged in menials jobs to put food on his table and that of his family after his father's death.
Mr. Ibu's Education and Early Adulthood
Mr. Ibu had his primary school education in Enugu but couldn't proceed due to the demise of his father and the situation of his family. He went to Sapele to stay with his elder brother where he engaged in menial jobs, hairstyling, photography, and in a crate manufacturing company, etc to support his family, feed, and see himself through secondary school. In the spirit of hustling, he and some of his friends travel to as far as the Niger Republic to buy goods like clothes, footwear, medical equipment, etc for resale in Nigeria.
He got admission into College of Education, Yola but couldn't proceed due to financial challenges do he withdrew and doubled his hustle. When he made enough money, he applied to the Institution of Management and Technology(IMT) and got admitted. His persistence and hard work paid off eventually. Mr. Ibu also learned martial arts and practice Shokotan Karate. He won a black belt in 1983 after practicing for 16 years. Luck shone on him as he became the first instructor to teach Karate in some federal schools even though he initially stopped boxing after he was beaten and given a disfigured face.

Mr. Ibu's Career
Mr. Ibu while working with the Anambra Broadcasting Service was selected to be starred in a soap opera Ogbu Anyanwu and Kwere Kira.  His diligence working with producers as a production assistant opened an opportunity for him to learn the intricacies of movie production.
He came to continuity in Nollywood and said he prefers to be behind the scene than in the limelight. This was not until he was persuaded and he decided to give it a try. It wasn't easy for him as he had to trek long distances for audition and rehearsal but his ability to interpret his role well and fast was an advantage to him. He came to limelight after his first movie, "Mr. Ibu" where he bagged the name though Ibu was also his childhood name he took up from his grandfather after his demise.
Mr. Ibu's Movies
He has also featured in over 200 movies some which include:
Agony, 1998

Vuga, 2000

Police Recruit, 2003

Nicodemus, 2003

Ngozi: Abeg Marry Us, 2003

Naomi, 2003

Mr. Ibu in London, 2004

Mr. Ibu, 2004

James & John, 2004

Dollars from Germany, 2004

The Councillor, 2005

Circles of Live, 2005

9 Wives, 2005

Sweet Mama, 2006

Store Keeper, 2006

Recharge Card, 2006

Over Heat, 2006

Men on the Run, 2006

Four Forty, 2006

Final Surrender, 2006

Dear Mama, 2006

Fool at 40, 2006

Toronto Connection, 2007

Keziah, 2007

How Far, 2007

Bafana Bafana, 2007

Basket Mouth, 2007

Mental Case, 2008

Yahoozee Prophets, 2009

Most Wanted Kidnappers, 2010

Open & Close, 2011

Honeymoon Guys, 2015
Some of his written and  produced works include Mr. Ibu, Naomi, Allegations, etc
He has earned multiple nominations and won various awards some of which includes:
Best Movie Actor of the Year, Peace Ambassadors of Nigeria, 2014
Awards of Excellence, Magic Lens Africa Film Academy, 2016
He also got recognition and award by Enugu State Governor and Africa Magic Viewers Choice Awards as Best Comedian.
Mr. Ibu's Marital Life
Mr. Ibu is currently married to an actress Stella Maris Okafor who he married 6 years after his failed relationship with his previous wife and he has 5 kids with her and 4 with his previous wife though he lost his first son during a kidnap. He is a grandfather as his first son has 2 kids. According to him, his first son has also shown interest in acting but he has refused to encourage him for reasons best known to him. He suspected his kidnap was orchestrated by his ex–wife and he paid a huge amount as a ransom for himself and his family. His home was also robbed by gunmen who carted away with items and cash worth about a 14million leading to his minimal posting on social media so as not to send off a wrong message of affluence.
Mr. Ibu's Net Worth
As one of the most respectable, famous, and affluent actors and comedians, his net worth is estimated to be about $4.2 million.